Char McDonald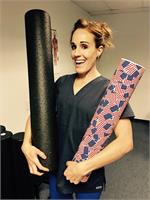 Char McDonald instructs the following:
Join us for an educational and interactive foam rolling class with Char McDonald! Char is a fellow yogi and Doctor of Physical Therapy with Elite-OSM. Char explains "Although we work on stretching and strengthening our bodies with yoga, the stress and strain of daily life and other sports/gym activities can take their toll. Due to previous injury, pain, &/or posture issues, our tissues tend to start to cause imbalances, both small and large. They also start to pull on our joints causing further pain, discomfort, and aches. With the use of foam rollers and lacrosse balls we can work on those tissues to elongate and release them in order to correct these imbalances."

This fun and informative class will leave you feeling relaxed and reformed! If you have a roller, please bring it along! If not, one will be provided as needed. This workshop is appropriate for beginners as well as avid foam rollers.